Do you hide from others because you're afraid they won't like what they discover about you?
Are you holding back from saying yes to new opportunities because you're not certain you will perform well?
Have you allowed past experiences or personal fears to overpower your life and block you from becoming who God intended you to be?
Join me on a journey to escape the bondage of your fear of rejection and experience the freedom to become the Real Person God created you to be.
In my book, Will the Real Person Please Stand Up? Rising Above the Fear of Rejection, you will read about my personal journey, as well as the stories of many others. I will help you identify the reasons you are living in captivity. I'll guide you through the steps of allowing God to break the barriers that hold you back so you can let go of your fear of rejection. That's when you'll taste freedom to become your authentic self and experience life fully.
God set me free from my fear of rejection and showed me how to become the real person He created me to be. He will do the same for you. Say yes to God, and let's travel the path of freedom together!
Gail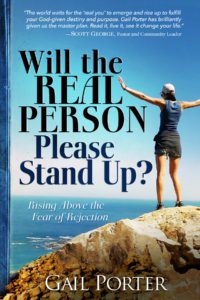 Scott George, Senior Pastor ∼ "The world waits for the 'real you' to emerge and rise up to fulfill your God-given destiny and purpose.  Gail has brilliantly given us the master plan. Read it, live it, see it change your life."
Patti ∼ "Have you ever suffered from fear, and wondered if there has to be more you are meant to do? Have you ever wondered who God has called you to be? If so, you should definitely check out this book for yourself. The personal stories make the book become real and meaningful in a personal way. Gail Porter does an incredible job of illustrating how to be set free from the bondage of fear."
Deana ∼ "I could relate to the author as she was raised in a home where love was not shown. Rejection is such a hard thing to overcome. It wraps its hold on you and continues to whisper lies to keep you isolated and abandoned. What I liked about the author was how open she is about her life and brings truth to the lies that the enemy uses to discourage us."
Mary Ann ∼ "This book can help us live as God intended rather than defaulting to fear."
Betti ∼ "I am quite sure everyone has experienced rejection in life, even if it was only that job you wanted and didn't get.  Removing your mask and leaving that imposter syndrome behind will help us rise above that fear of rejection and into a life of personal freedom."
Deb ∼ "I would recommend this to anyone who wants to get rid of fear and be comfortable with themselves. It is a good read that is easy to understand and you can relate to her stories. This would be a good book for a women's group or Bible study."