Do you hide from others because you're afraid they won't like what they see inside of you?
Are you holding back from saying yes to new opportunities because you're not certain you will perform well?
Do you want to be free to live an authentic life instead of hiding behind a false identity?
Join me on a journey to escape fear and experience freedom to be the authentic person God created you to be.
In my newest book, Living on the Path of Freedom: Leaving Fear of Rejection Behind, you will read about my personal journey of freedom as well as the stories of ten other people who survived fear and darkness and discovered how they could live in the light.
God set me free from my fear and showed me how to live as the real person He created me to be. He will do the same for you. When you walk on God's path of freedom, you can become your authentic self and experience life fully. Say yes to God, and let's travel the path of freedom together!
Gail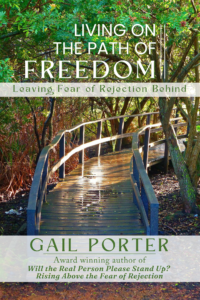 Patricia ∼ "Gail's open and honest sharing of her story, as well as of her encounters with those who struggle with fear of rejection, allows us to reach deep into our pasts to find the freedom that allows us to live life to the fullest. The variety of stories will touch you on many levels. Bravo, Gail. You have written a winner." – Patricia Hartman, forensic CPA and author of Poisoned and Drugged
Dena ∼ "Gail Porter's Living on the Path of Freedom offers a ray of sunshine and hope. This book touched my heart and was difficult to put down. Gail did a beautiful job of capturing the essence of ten heartbreaking, yet redemptive, stories of survival. Each is guaranteed to inspire and uplift." – Dena Yohe, Award-winning author of You Are Not Alone; Co-founder of Hope for Hurting Parents
Lisa ∼ "Authenticity is a common buzzword. However, the path toward living an authentic life is often wrapped in the fear of rejection. Gail gently leads the reader on a personal journey through her own experience and those of her friends. Together, they find ways to recognize their fears and ways to peel them back and release them to God. This book can help us live as God intended rather than defaulting to fear." – Lisa Worthey Smith, Amazon best-selling and multiple award-winning author of the Elijah Mandate series