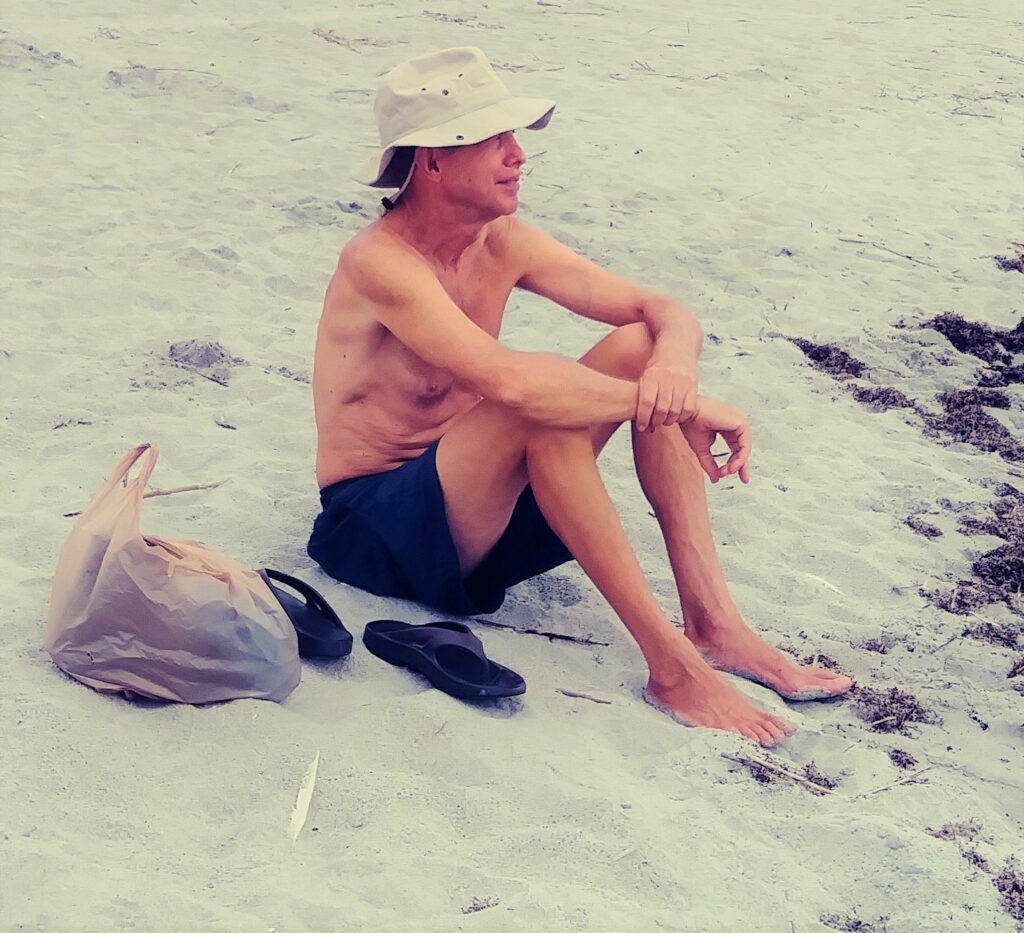 He sat in stillness, as if mesmerized by the crashing waves in front of him.
"Mind if I take your picture?" I ventured.
After his consent for a photo shoot, I asked him the standard beach-side question, "Where're you from?"
"I live here and usually come once a day. How'd you get time off during the week?"
With a smile I replied, "I recently retired so I can drive here any time."
"What're you doing now that you're retired?"
I offered the first thing that came to my mind. "Well, it's given me time to write a book."
When he asked what it's about, and I explained it's about the fear of rejection, he admitted, "The thought of rejection holds me back from saying things or presenting my opinion because I want it to be perfect."
After confessing I had the same problem, I told him that God is in my life and He is helping me make progress and become more free with people.
After exchanging names, Alan told me more. "I belong to an AA group. I used to go to keep from drinking. Now I go because of the fellowship. And I feel safe."
"How long have you been sober?"
"Seventeen years. I don't want to take one drink, because I don't want to give up what I have in the group."
"That's wonderful. God wants to help you stay sober."
Pausing for a moment, we looked toward the rolling waves, blue sky, and brilliant sunshine and agreed that all of it reflected God.
As we stood together, he said, "Thank you for stopping to talk. I'll buy your book. I know it will help me."
"Alex, do you realize that God arranged that you would come to this spot and I would choose this time to walk by?"
We smiled at each other with the realization that this was an arranged appointment we would never forget.
As I walked away, I felt like my feet were barely touching the sand. I'm praying that this spiritual seed-planting and watering time will blossom and flourish in the heart of Alex, the man God brought to the sea that day.