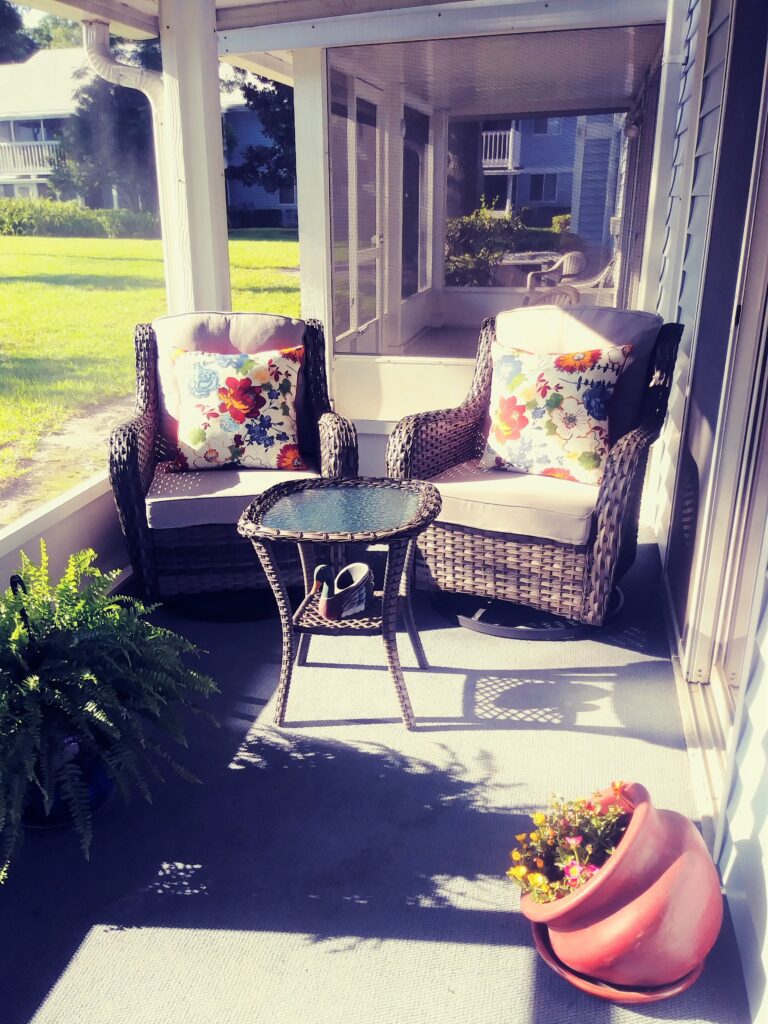 "Gail, remember to tend your garden!"
Shirley is the kind of friend who sends me these kinds of alerts whenever she discerns I'm forgetting to pause and tend my own personal garden. To give myself permission to slow down and go someplace or do something that allows me to relax, recharge, and reflect. To rest in a way that restores my soul.
Little did I know that my summer project would create a perfect environment to help this happen more frequently.
My well-used white wicker porch set no longer beckoned me outside. My heart longed for some pretty, comfortable, and durable chairs as well as a matching table. Fully expecting an extensive search, the moment I stepped into the patio display of a nearby store, my vision came to life. The high back, glider/swivel chairs, with colorful pillows casually thrown on as a suggestion, as well as the perfect-size glass-top table, screamed "Gail." The patio sale, that reduced the price by $50, added to the thrill of the find.
A comedy of errors ensued as my neighbor Pam and I placed the huge box in her truck, lugged the individual pieces to my patio, and began assembling the first chair…only to discover the plastic bag containing screws, bolts, and directions was missing. After picking up the crucial items from the store, and soliciting help from another friend, our DIY project finally came to a successful end.
After thanking Pam profusely, I prepared my lunch and carried it outside to enjoy my new, colorful oasis. While slowly gliding back and forth in the comfy chairs, I read my book and listened to the birds chirping. The flourishing fern, displayed in my large, cobalt-blue pot, brushed my soul with delight. Periodically, I drank in the beauty of the pink cypress tree, and flowers and foliage gracing the backyard beyond my enclosed porch. Without realizing it, two hours had passed. Smiling, I declared out loud, "Time stands still out here. I could easily stay all day."
In what ways do you stop and tend your personal garden so you are refreshed, revived and ready to walk back into the various arenas of your life? Sometimes it only takes a pause.
"The music in a song isn't just the notes.
It's the space between them.
A song without rests, without timing,
isn't a song. It isn't music."
John Ruskin