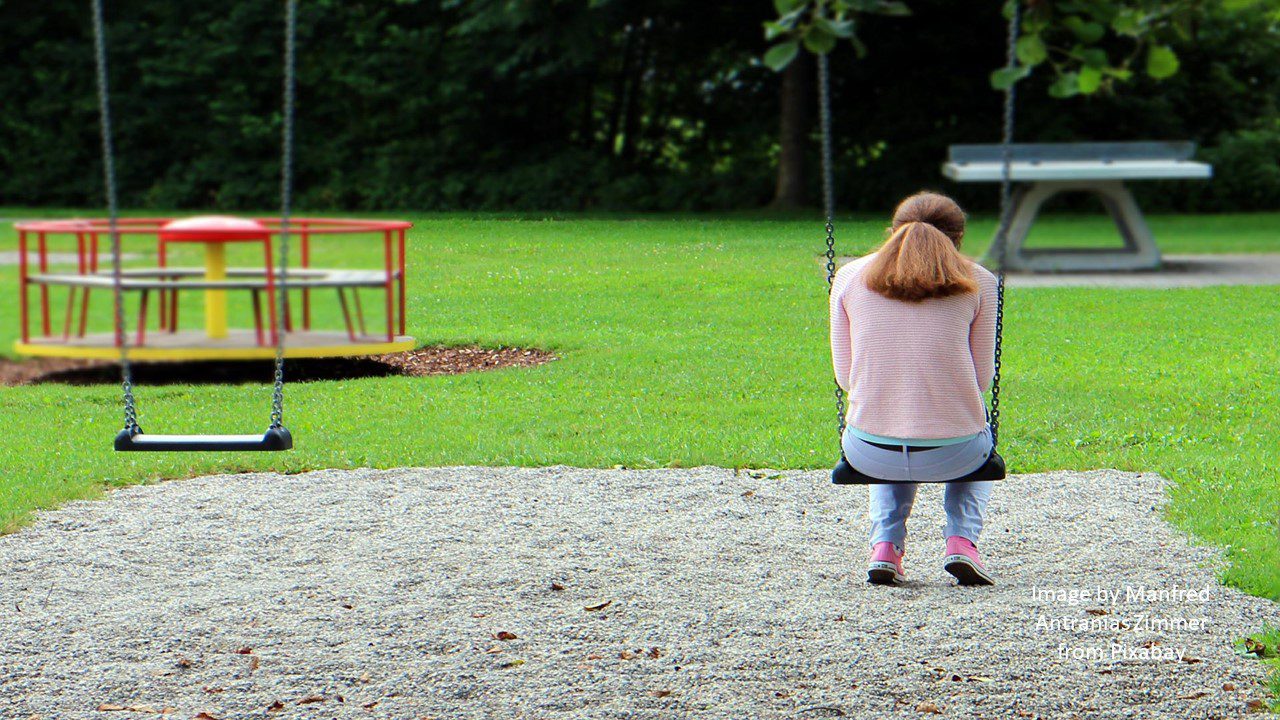 Do you sometimes feel alone, lonely, forgotten?
God knows your heart, understands your longing, and invites your honest prayers. He desires your companionship, and He knows how to fill up your empty spaces.
Some years ago, I watched God unfold His loving plan for someone dear to my heart: my 95-year-old friend, Dorothy—my mother's best friend.
Dorothy had to release her dearest, caring friend and say goodbye to her more than 20 years ago. Now at her age, Dorothy had outlived most of her other friends.
Our shared loss of my mother, led to a sweeter and closer relationship. Dorothy lived in St. Helens, Oregon, and I resided in Orlando, but we frequently called each other and exchanged cards and letters. (As a former secretary, Dorothy typed her notes to me.)
Each year Dorothy and I looked forward to our lunch date and visit when I traveled to Portland. Our excursions were special, since she was confined to a wheelchair and rarely left the assisted living facility.
On one of my visits, I left my friend's home in Portland and headed downtown. After switching freeways, I breezed over the St. John's bridge. A green steel suspension bridge, it was only one in a long lineup of bridges leading to different cities on the west side. While high in the air, I soaked in the beauty of the glistening Willamette River below me.
Reaching the other side, I turned right and merged on to St. Helens highway. After enjoying the ride, with rolling hills on my left and the majestic river on the right, I finally spotted a signal at a small intersection.
That was my clue to turn left on to Gable Road. Dorothy's assisted living complex sat only a few yards up the road. I pulled into a parking spot nearest the door.
Dorothy and I had agreed I would come to her apartment first. Walking through the lobby I paused at the sign-in desk. The girls greeted me warmly and expressed delight that I was heading upstairs to visit Dorothy.
I stepped off the elevator on the second floor, where the yellow and green swirls in the wallpaper and comfy visiting areas created a homey atmosphere.
After walking around the corner and reaching the last door, I knocked. Dorothy's caretaker opened the door with a welcoming smile and mointed me to the small living area where Dorothy sat in a chair by the window.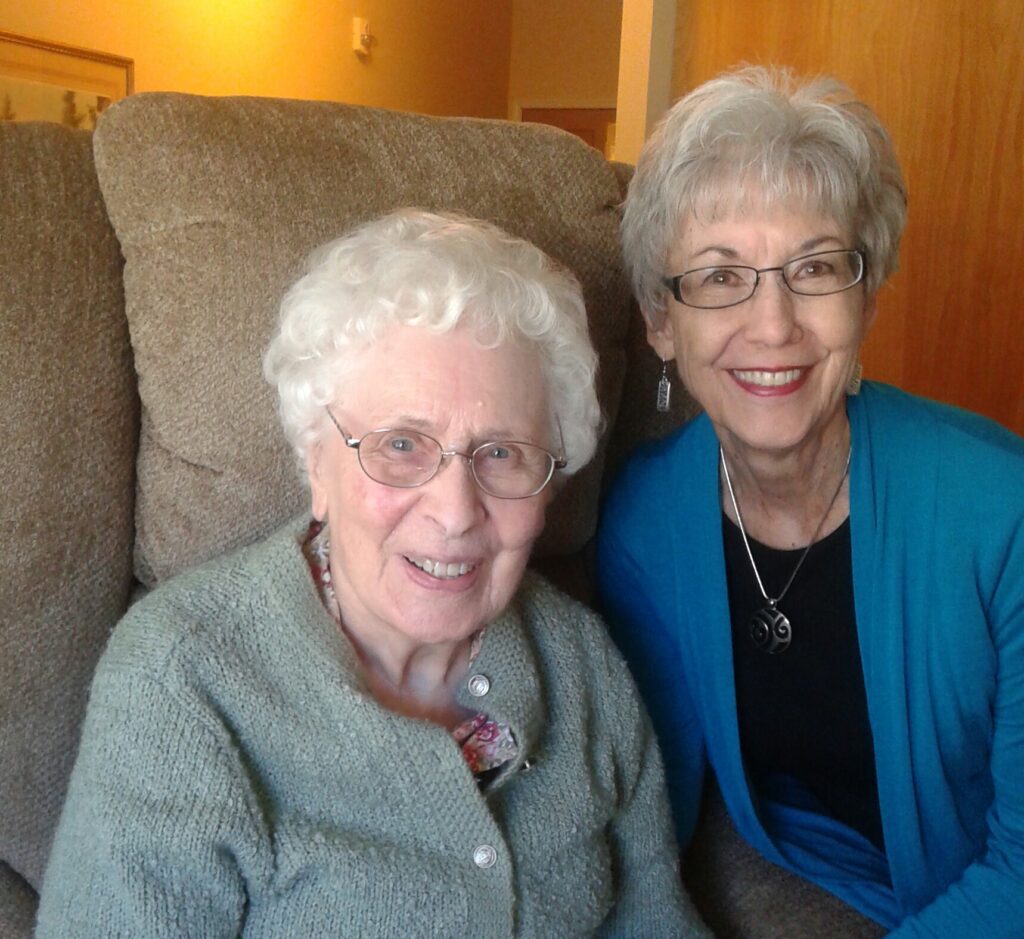 I leaned down and hugged my sweet, white-haired friend. Looking into my eyes she said, "Gail, I'm so glad to see you. Your mother would be pleased we're together." I smiled in agreement.
Soon she pointed to a small dresser where pictures were automatically rotating inside a small black box perched there. When I walked over to watch the pictures, she said, "Those are my newest family pictures."
As I came back to her, she reached over to the side table by her chair, and lifted up a framed picture of the two of us, which I'd sent her after my last visit. "Gail, seeing this picture makes me feel like you are here with me each day." My eyes welled up with tears as I hugged her again.
During our conversation Dorothy quietly remarked, "Shouldn't say this, but I'm lonely. My friends can't come this distance to see me anymore." Sadness clouded her blue eyes.
My heart broke. Silently I prayed, Lord, please lift her spirits today.
Eventually, her caregiver asked, "Are you ready to go to lunch, Dorothy?" After preparing Dorothy, Sara lifted her into the wheelchair. Once downstairs, I pulled my car to the front entrance. Sara skillfully bore Dorothy's weight and maneuvered her out of her wheelchair and into the front passenger seat.
Dorothy directed me to the Best Western down the street, and commented, "They have a very nice dining room." After sighting the motel, I turned into the tree-lined driveway and parked momentarily at the front door.
Once I'd lifted the wheelchair out of the trunk and pushed the wheelchair around to Dorothy's side, I realized I was incapable of lifting her out of the car. I remembered spotted an employee sitting outside the motel as we drove in. Looking in her direction, I walked over and explained my dilemma.
With a friendly smile, the young brunette popped up from the bench, eager to help. As the two of us walked back toward the car, I admitted, "I know this really isn't in line with your duties, but—."
"Well, actually I'm here to assist anyone who needs helps. I work at the front desk. My name's Jamie."
Jamie quickly and easily lifted Dorothy into her wheelchair and pushed her to a table in the dining room, while I parked the car. "Enjoy your lunch," Jaimie said as she started walking away. Then over her shoulder, she added, "I'll help you when you're finished."
Dorothy and I chatted, laughed, and remembered old times. Toward the end, Dorothy said, "That salad was delicious. If I ate any more, I'd be eating the plate." I laughed.
"What a wonderful time this has been," Dorothy said. I smiled with delight.
But the best part was about to unfold. Jamie appeared at our table as I was paying for lunch. "Ready?"
After I pulled my car to the front, Jamie maneuvered Dorothy back into the front seat.
Jamie bent down to look into Dorothy's face. "Just as you drove in, I received a text from my mother saying that my grandmother passed away."
"I'm so sorry," Dorothy said. "Are you going to be able to get time off?"
"No, my grandmother lived in another state, but you are here." They embraced with tears spilling onto their cheeks.
My own tears flowed as I got out of the driver's seat and moved to their side. With gratitude in my heart, I said to Jamie, "God knew you two needed to meet each other today."
"Yes, He did," Jamie said. "And I'm getting baptized in two weeks at my church. They asked people to come forward if they wanted Jesus in their lives. God helped me not be afraid."
She paused and looked at both of us. Solemnly, she said, "Knowing Jesus has really helped me because my husband and I lost a baby six months ago." Her deep loss shook us.
Jamie then focused on Dorothy and told her, "I can't see my grandmother anymore but I can visit you."
"I'd love that." Dorothy's face lit up with the prospect of seeing her new, young friend again. That day our heavenly Father brought together two strangers who mended each other's lonely heart.
Are you lonely at times? On lonely days, tell God how you feel and remember His promises to you. Perhaps He will bring someone like Dorothy or Jamie into your life to lift your spirits right when you need it.
If you're not lonely today, perhaps you'd like to share this story and your caring words to someone who feels alone.
[David said to God]
Turn to me and be gracious to me,
For I am lonely and afflicted.
(Psalm 25:16 NASB)
The Lord is like a father to his children,
tender and compassionate
to those who fear him.
(Psalm 103:13)
For God has said,
"I will never fail you.
I will never abandon you."
(Hebrews 13:5)