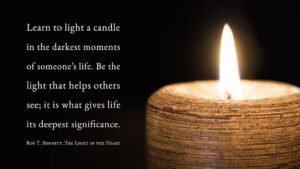 In these last months we have seen so much darkness. Feelings of hopelessness have overwhelmed many people in this country and around the world.
How does God want us to respond? His Word makes it clear that He wants us to shine His light in this dark place. We may have no inkling of whether we are making a difference or not, but God knows. 
Let's ponder a few things Jesus said. Then I'll share a personal story about how God shone His light through me into someone's darkness, without my awareness.
This first passage in Matthew 5:14-16 may be a familiar one to you.
14 You are the light of the world. A town built on a hill cannot be hidden. 15 Neither do people light a lamp and put it under a bowl. Instead they put it on its stand, and it gives light to everyone in the house. 16 In the same way, let your light shine before others, that they may see your good deeds and glorify your Father in heaven. (NIV) 
As believers, we have the light of Christ in our lives. He doesn't want us to hide the light He's given us. Instead, He wants us to shine it like a beacon on a hill, or a lamppost along the road, or a flashlight on a path. Our light can shine brightly during personal conversations, as well as through phone calls, a written note, an email, or a post.
In John 8:12, Jesus talks about being the Light of the world in the midst of a tense discussion with some scribes and Pharisees.
Then Jesus again spoke to them, saying, "I am the Light of the world; he who follows Me will not walk in the darkness, but will have the Light of life." (NASB)
You can sense the burden that Jesus bore when He saw people remaining in darkness when they could be living in the light.
And this is where my story comes in. You never know what God is doing while you're seeking to shine His light.
One of my nephews has been walking in darkness. He's aware of God but continues to choose glittering, unhealthy activities. He did provide incredible physical help as caregiver to two people with major illnesses in our family. But his continuing destructive choices eventually led to life-threatening illnesses.
While his mother was living, we enjoyed a good relationship and built beautiful memories. He knew I was a Christian and seemed pleased about my chosen life career as a missionary. Though I freely talked about God around him, he never seemed interested in knowing God for himself.
After his mother's death, we lost track of each other. For 12 years. Until last month.
"Gail I turned 63 today. I miss u and I love u. Out of the hospital yesterday. Not in very good health. Actually lousy. I really want to connect with you. I have been through so much.  But there has not a day gone by I haven't had u in my mind.  And heart.  I so hope ur ok.  Anyway please get hold of me."
After recovering from my shock, I quickly wrote back to assure him of my love and God's love, and to help him realize God was offering him a chance to live.
That same day, he emailed me back. "I'm directing my life but under his direction. I had a short but great conversation with my nurse. I'm hoping if I keep my ears and heart open he will send me more of his great wisdom. Yesterday was a game changer for me. I'm gonna stop feeling like giving up. I miss u and I'll always love u."
My heart soared with the way his perspective had changed, conceivably through whatever words the nurse had spoken. I believe she was an angel sent by God to soften his heart so the watered seeds would have a chance to grow. 
During all those years of being around my nephew, I never knew what he was seeing or hearing. Now in this most desperate hour, God drew him back to where he had first seen the light. I will keep shining God's light on my 63-year-old nephew and showing him the way to open his heart to God while he still has life and breath.
Friends, don't despair about what is happening around you. Keep the Light within you burning brightly, so it will shine in the darkness of someone else's life.
Do you have a story to tell? Or a way you have been blessed by having the Light of the world in you? Feel free to leave your comment below.